Cloud612 a.k.a. Cloudie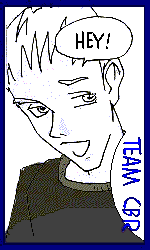 Real Name: Zach McCoy
Aliases: Cloudie, Slim Pickinz, Kame Sennin, Westside Lil Z
What he does: He runs the site, he updates things, {The founder and CEO of Team CBR.}
Height: 5'10"
Weapon: Ultima Weapon
Limit Break: Credit Slash, Hmm Foo Splash
Favorite game(s): FFVII, Zelda
Favorite movie(s): Blue Submarine No. 6, Air Force One, The Fugitive, The Matrix
Email: cloud612@tifa.zzn.com
AIM s/n: avalancheREBEL
Yahoo! ID [Chat and messenger]: jediknight612
MSN Messenger: harrisonford_fan4life@hotmail.com
LiveJournal username: cloud612
Napster ID: avalanche612



Solid Cobra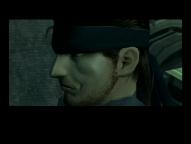 Real Name: Tyler Selig
Aliases: Lil T, Cobra, White Trash, Ho, Westside Lil T
What he does: Makes comics, and acts stupid
Height: 5'9
Weapon: Wet Fish
Limit Break: He Bitch Man Slap
Favorite game(s): Metal Gear series, Chrono Trigger, FF4, Super Dodge Ball, FF1.
Favorite movie(s): American Pie series, Saving Private Ryan, and Dude, Where's My Car?
Email: majorcpa@hotmail.com
MSN Messenger: majorcpa@hotmail.com

Solid Cobra became a staff member after the sad closing of the once and always great FinalTrigger. It will forever live in our hearts. Anyway, he creates comics and lightens up the place a little, look for him to be all over the place.



Zidane 128 a.k.a. Z

Real Name: Jonathan A. Domenech
Aliases: Jon, Zidane128, Z
What he does: Runs and maintains Team CBR Gaming; advises Cloudie
Height: 6'
Weapon: Ultima Weapon (Final Fantasy IX version)
Limit Break: Total Annihilation
Favorite game(s): Final Fantasy VIII; Super Street Fighter II Turbo Revival; Soldier of Fortune Gold
Favorite movie(s): Pearl Harbor; Final Fantasy: The Spirits Within
Email: jedimaster128@yahoo.com
I am the boss here.


Merk

Real Name: Merk
Aliases: Stupid, Dumbass
What he does: game reviewer, stars in comics
Height: 5'11
Weapon: runs away, he can't fight for shit
Limit Break: Gets Drakhen to fight
Favorite game(s): Mario Series
Favorite movie(s): Super Mario Bros. and Ever After(just don't tell anybody) oops!

Poor Merk is always getting picked on by Drakhen and Mr. Wang Dinger, and surely this font color won't help! But he stars in the FinalTrigger saga comics, and is an avid game reviewer!



Brutice


Real Name: Brutice O'neil
Aliases: Brute, Big O
What he does: He's kinda the "guard sheep" so-to-say..
Height: 3'4"
Weapon: His Skull, and sharp hooves
Limit Break: Baa Ram Ewe (Duo with Chuck)
Favorite game(s): FFVII, Sheep
Favorite movie(s): Babe, and believe it or not, Silence Of The Lambs!

Brutice is Chuck's best friend, these two have been together forever... Maybe soon I'll have their story posted!


Chuck

Real Name: Chuck Widmer
Aliases: Charles, Charlie, and Ramlin
What he does: Brutice's buddy and helps people get cheered up
Height: 3'2"
Weapon: His Skull, and sharp hooves
Limit Break: Baa Ram Ewe (Duo with Brutice)
Favorite game(s): FFIX, Catz
Favorite movie(s): Emperor's New Groove

Chuck is a little more fun-loving than Brutice, but they get along very well, and have been friends since they were little.


Dubya

Real Name: George W. Bush
Aliases: George, W., Captain Kirk
What he does: He just sits around and does odd jobs every now and then
Height: 5'8"
Weapon: Inventing new words and stupifying people
Limit Break: Hanging Chad
Favorite game(s): Who Wants To Be A Millionaire?
Favorite movie(s): Lonesome Dove

Our beloved pal loves to hang out 'round the site, especially when we're having BBQs! Look for alot of Dubya on this site!